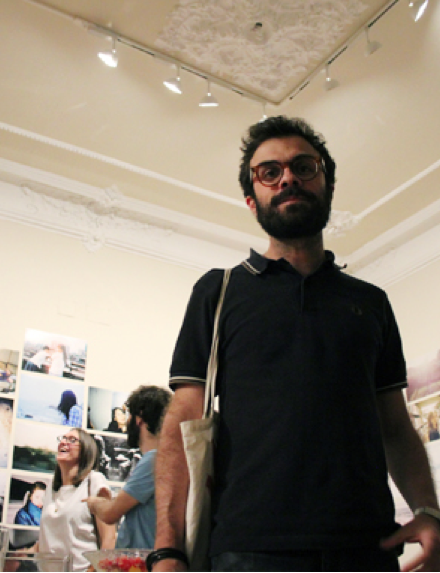 Photographer: Sergio Albert Fish
Manuel Donada is an artist from Madrid and the founder of Watdafac Gallery. Manuel has a marvellous apartment, and a part of it, was used during a long time as the office space of a graphic studio until the crisis hit Madrid strongly enough that the guys decided to move their office back to their houses.
After that, Manuel, tired of not finding in Madrid the kind of art galleries like s the ones that he had seen while living in NY or having his exhibitions worldwide, – some of them in atypical places like apartments or not common gallery spaces-, he decided that he would use the now free space for something different. That´s when Watdafac was born and became the first gallery like this in his hometown Madrid.
Watdafac is in the middle of the city, right in Gran Via, and while Manuel is bringing international artists from all over the world to do exhibitions, he is also doing amazing exhibitions with spanish artists.
Illustration is where his passion is, as an artist and gallerist, and the queues at the door of the front door´s house to get into the openings has been so long that he had to place a sign at the elevator of the house which says "maximal 3 people pro ride going up".
The bookshop´s selection of the gallery is delicatessen, a compilation made from the books he receives from different artists plus the limited editions that he publishes himself for every exhibition.
Watdafac is doing a lot of good for Madrid. And Manuel is a pure energy person -influenced by punk, comic books, illustration, pop culture imagery and the art brut-, focused, with commitment, to promote fascinating and exciting artists, talented people and entities that make our world brighter.
Watdafac Gallery
C/GRAN VIA 26
28013 MADRID