The first edition of The Big Feastival took place in 2011 on London's Clapham Common, and it wasn't a small affair. Around nine thousand food lovers -on the Sunday alone- headed to South London eager to experience what it was like to be at a food festival with music thrown in to boot. For the 2012 edition, Alex James, bass player of Blur, cheese devotee and long time friend of Jamie, became co-host to the festival in his 200-acre farm in Oxfordshire.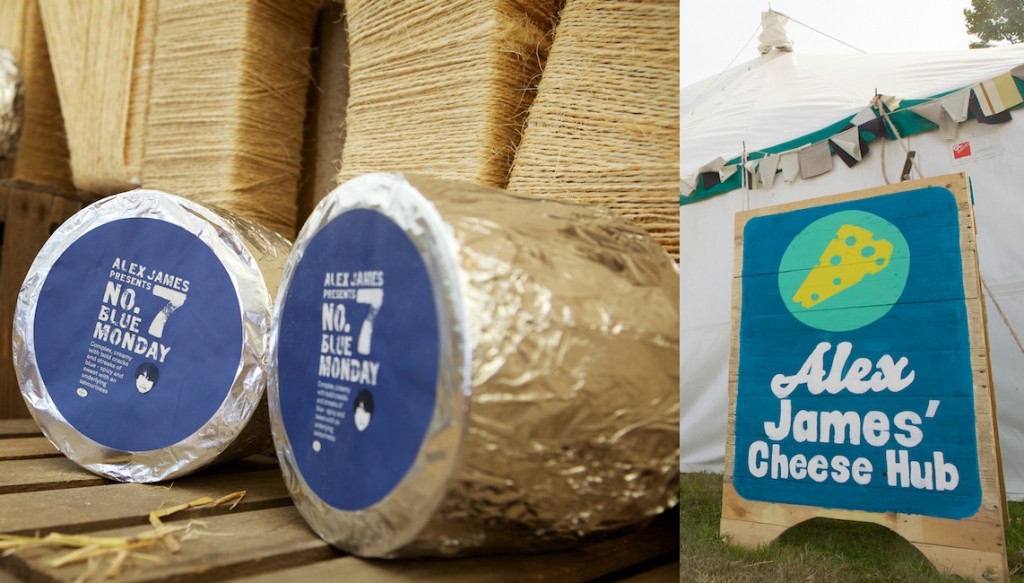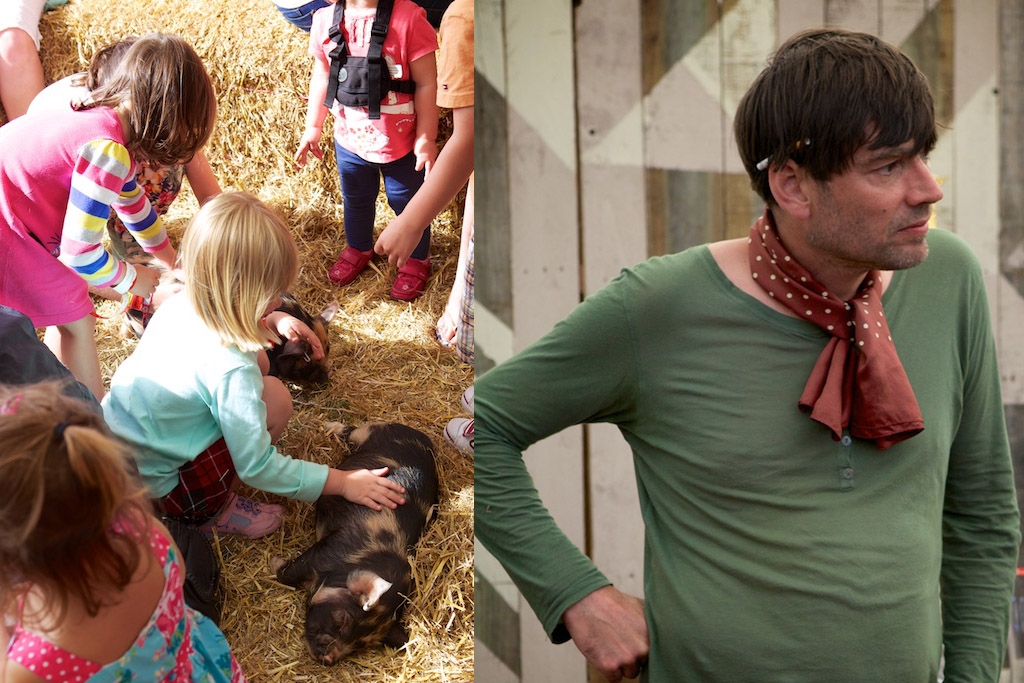 This year, their second at The Cotswolds, more than 14,000 people attended per day. Thousands of people gathered to celebrate food? This might come as a shock to all the people from other countries, who unfortunately still think of Britain as a country that doesn't know how to eat and cook.
Citizens of the world, it is time for you to realize that British food is highly underrated.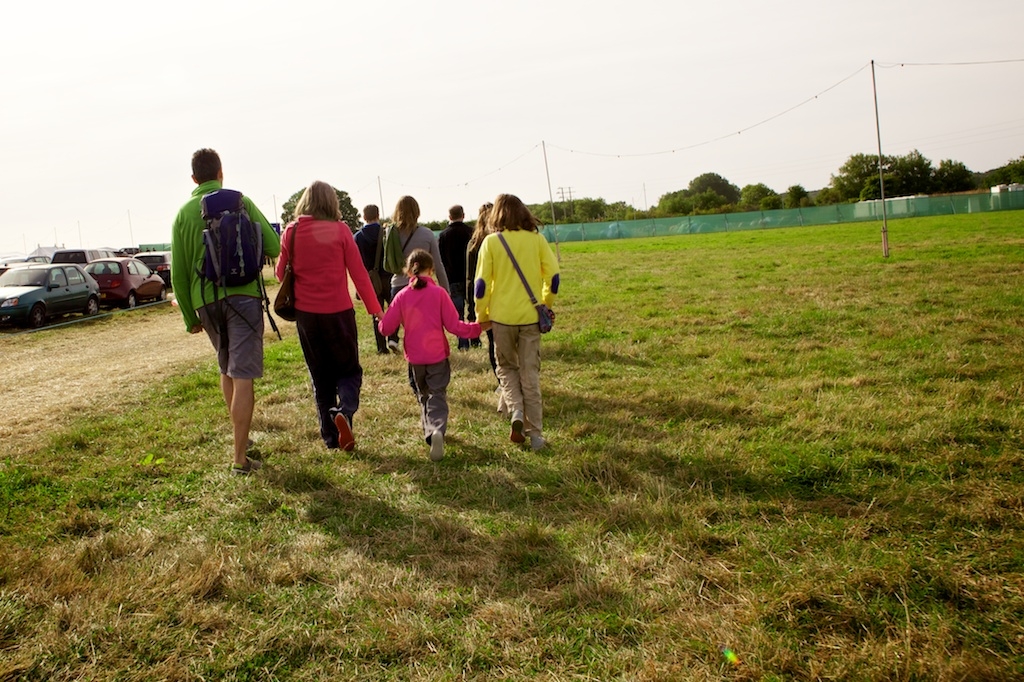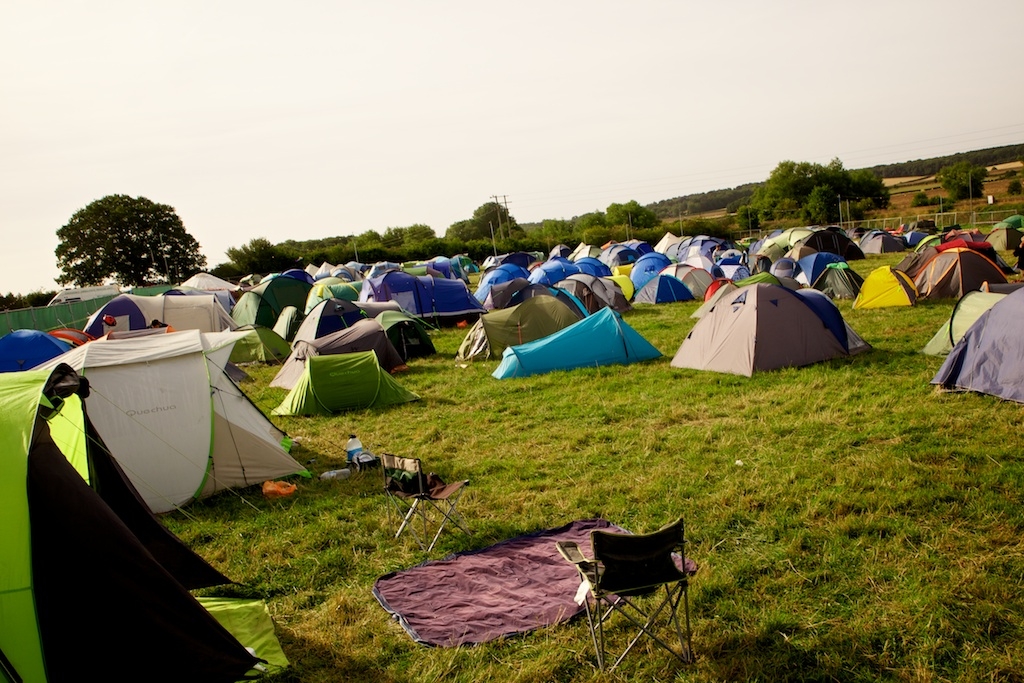 A few decades ago you could have made a case for UK cuisine being bland or boring, but over the last twenty years the interest on food has increased dramatically. British people love their food and are not afraid to show it. They have embraced the influences brought by immigrants from all over the globe, and the result has been nothing less than tastebud dynamite.  Nowadays Britain is one of the most exciting places to be if you are looking for an scintillating array of flavours and artisanal products. Organic produce and meat is big in the UK, and at The Big Feastival you can find food made by people who source their ingredients locally, as well as food produced by local farmers.
Attending The Big Feastival is like heaven for all foodies. The variety is so big and tempting, I would strongly recommend arriving with an empty stomach, no, sod it, better not to eat at all the previous day. The only thing that needs to be bulging is your wallet.
Excitement drove us out of bed very early, and we found ourselves getting there a couple of minutes before the doors opened. There were already people queuing. Why would you have a regular breakfast at home when you can have something amazing? We rushed across the Little Dudes Den on our search for our first meal of the festival. The first food section of the festival, 'Street Food Alley', was chocka with the mobile restaurants that have been causing a stir in the capital. After dithering much more than usual, we went for a bacon roll with a twist: the "Breakfast Ball Bap" by The Bowler. Delicious beef meatballs with a mushroomy tomato sauce, topped with bacon. Wow. It's little wonder Jez Felwick's grass covered van is one of London's favourites. Apart from delivering on the food front, the whole team exudes charm and they all seem to share in the same passion for what they serve. A passion that is also what drives their friends, fellow traders: Rainbo, Bhangra Burger and Yum Bun.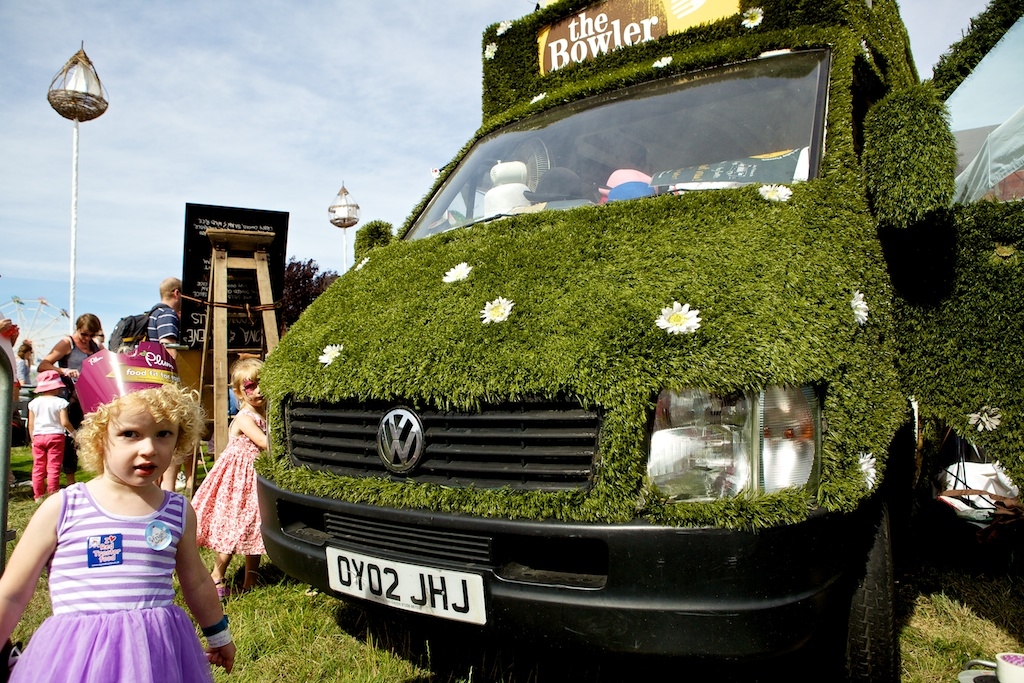 After that amazing breakfast, we went to The Electrolux Big Kitchen stage to see Jamie Oliver talk about the best way to cook pulled pork shoulder. Alongside him, Adam Henson, an expert on British farming and owner of the Cotswolds Farm Park, and Chris Stevenson, aka DJ BBQ, star of Jamie Oliver's food tube channel, talked about the low and slow way of cooking. A tightly knitted crowd of mums and chefs to be were quietly paying attention to every word. A big screen and a mirror above them to watch their every move was making our mouths water again, so we head back to Street Food Alley and went straight to the Rainbo truck.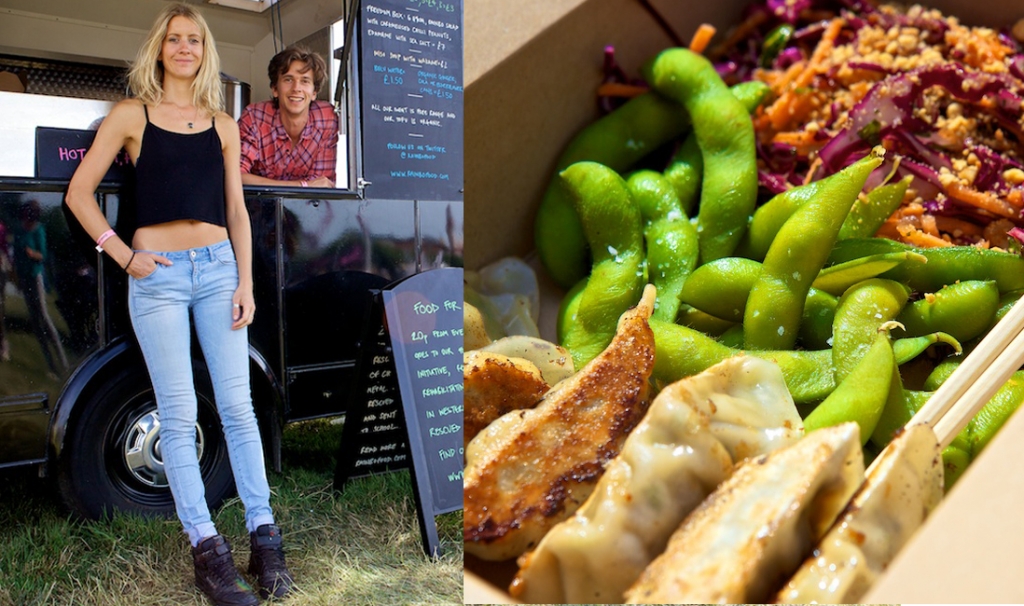 Rainbo is run by Ben & Shrimp, a lovely couple who sell their take on gyozas from a cool 1948 black Ford pickup. They started their venture in 2012, and their mission is to bring tasty, nutritious food to the streets, and to help those who are not fortunate enough to choose what they eat. Every 20p from every meal they sell, goes directly to the rescue, rehabilitation and reintegration of child labourers in Nepal, with the help of the NGO BASE. They let us try their "Freedom box": gyozas with asian-style slaw salad and edamame beans. All absolutely delicious! We couldn't think of a better way to be good to yourself and to other people, we calculated around 5 karma points on each bite. This is such a nice treat, it is hard to believe you can find it in the same city that's been taken over by fast food joints.
Oliver and James intention is to increase public consciousness about how important it is to buy and eat good quality food, as well as getting them closer to the small producers and farmers. This last point was confirmed by the presence of The Red Tractor among all the local farmers, traders and well established brands.. The Red Tractor is a food assurance scheme which covers production standards developed by experts on safety, hygiene, animal welfare and the environment amongst other things. The Red Tractor logo on a pack means that the food or drink has met these responsible production standards and is fully traceable back to independently inspected farms in the UK. Unfortunately, not a lot of people are aware of what the logo stands for. We had the chance to have a chat with Richard Catell, their head of Marketing and Communications, and he explained what their agenda is, and also told us about their immediate plans, which include a Red Tractor Week that will run from September 16 to 22. Alex James will be a key participant on this consumer campaign that aims to develop consumer trust in their food, by raising awareness of the farm and food assurance benefits that the Red Tractor logo provides, and to encourage shoppers to look for the Red Tractor logo when purchasing their food.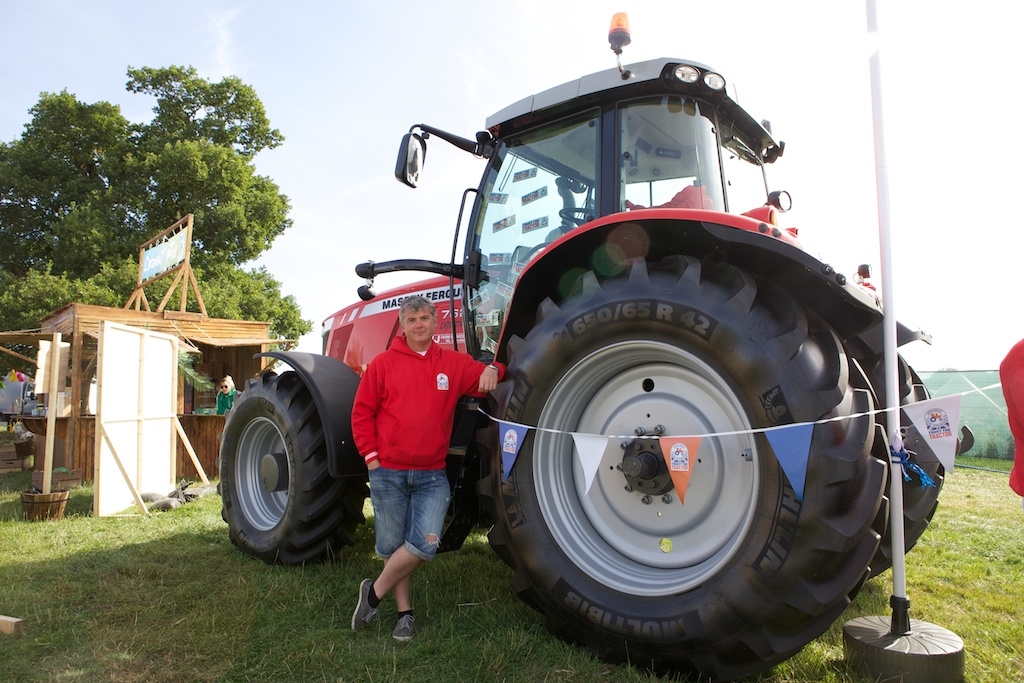 The Big Feastival is probably the most family friendly festival we've ever been to. I've never seen so many toddlers, babies and kids per square meter at a festival before. There is a whole area of the festival dedicated to them: The Little Dudes Den, a space with a petting zoo, trampolines, piles of hay for the kids to have fun in, cookery classes and creative activities. We got our hands on some great toddler food offers from Bear and Happy Monkey, and smiled watching kids petting and hugging sleepy piglets. This is the kind of place you'd want to go on holiday to if you're little.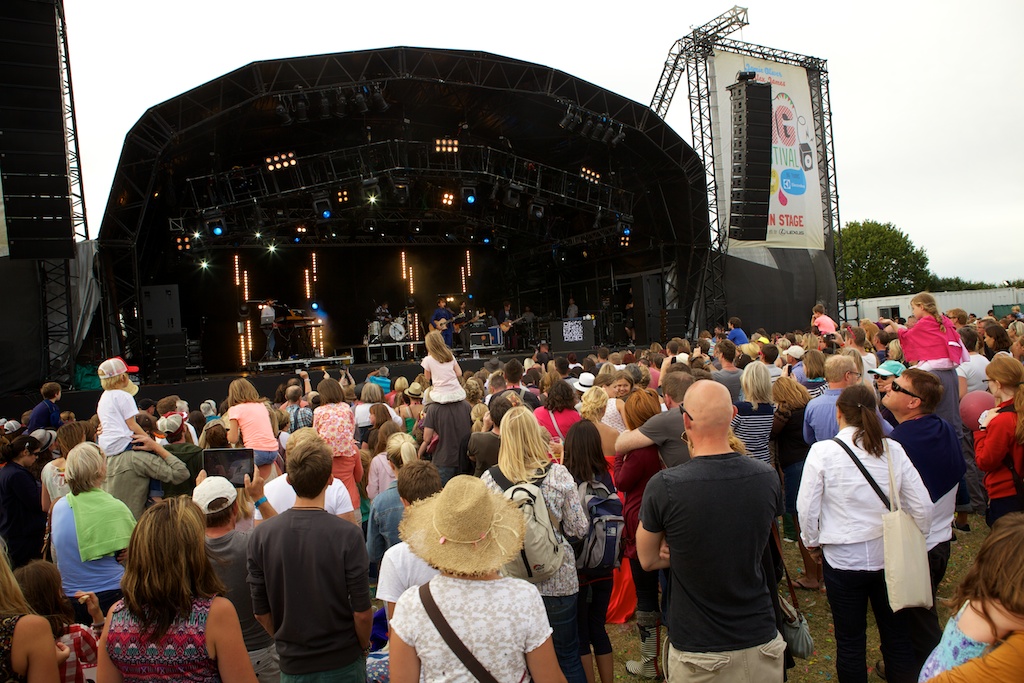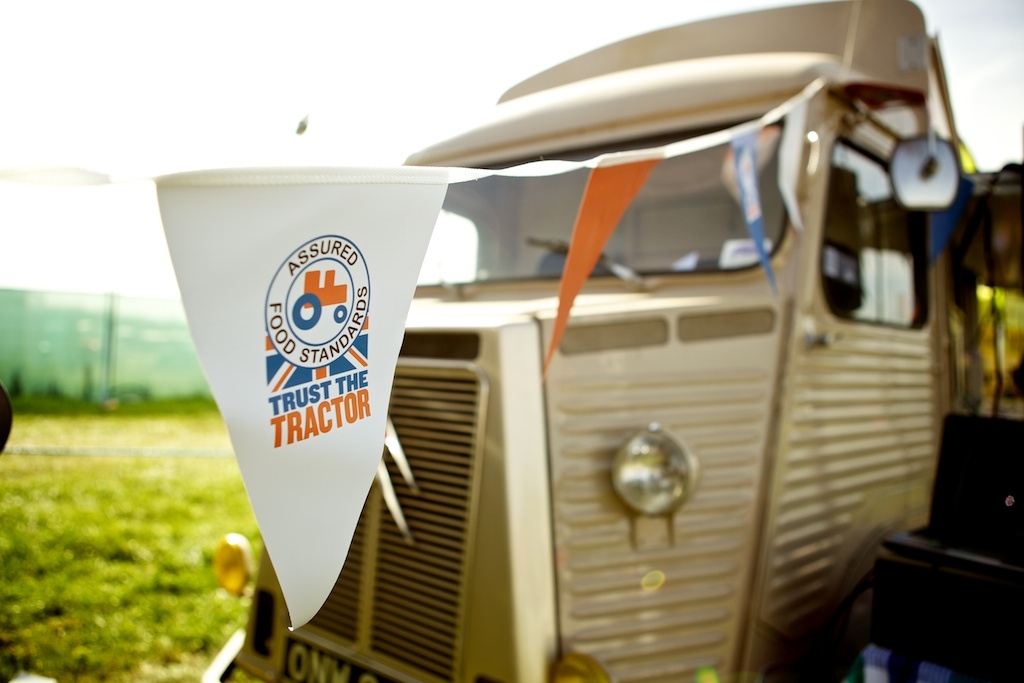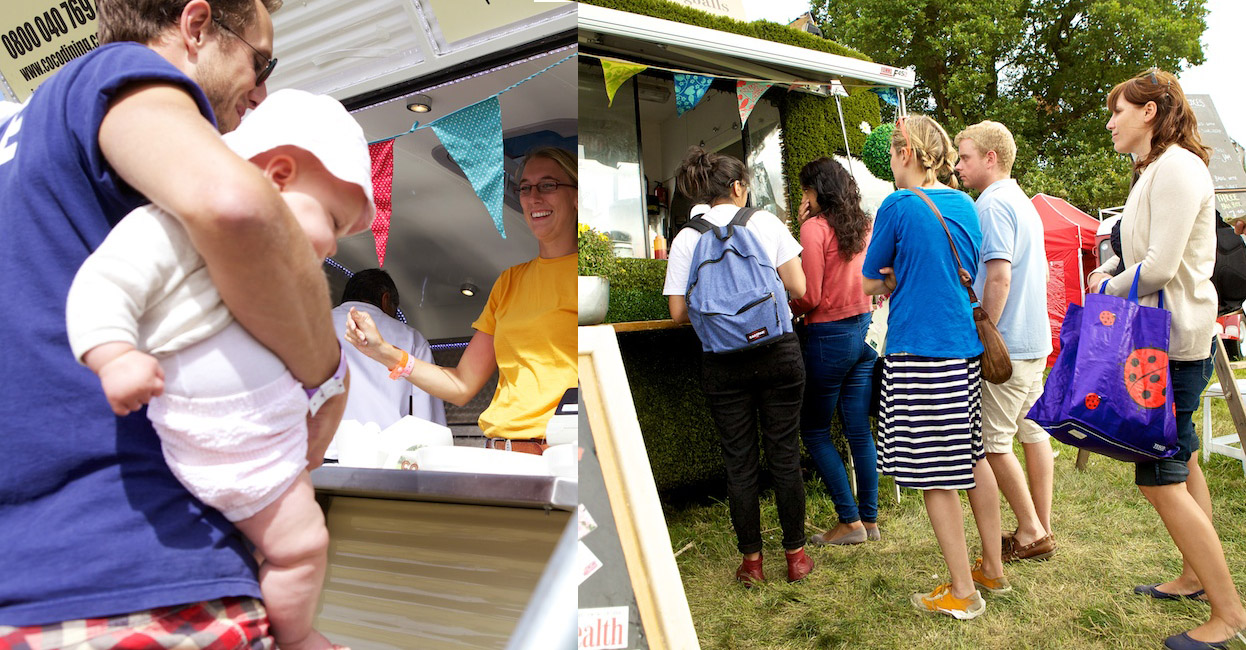 The market space was full of lovely people and great products, most of them local. Amongst them, was the youngest entrepreneur we've ever met, Fraser Bawtree. A 12 year old who started his fudge endeavour to raise money for a trip, but was so successful that ended up making it a business. And we are glad he did. His fudge is sooo good!
We discovered the wonderful world of tea mixologists Krisi and Mike who created Bluebird Tea Co., and smelt as many of their creations as we could:  Vicky's Sponge Cake, Monkey Chops, All Things Nice, and Mint Choc Rooibos of which we got a bag. They will be opening their first shop soon in Brighton, with cakes, brews, and iced teas. Next to them there was another couple of tea lovers, Marion and Olivier who founded Equalitea a year ago. They are exclusive distributors in Britain of Les Jardins de Gaïa, the first supplier of Organic and Fair-trade teas in Europe.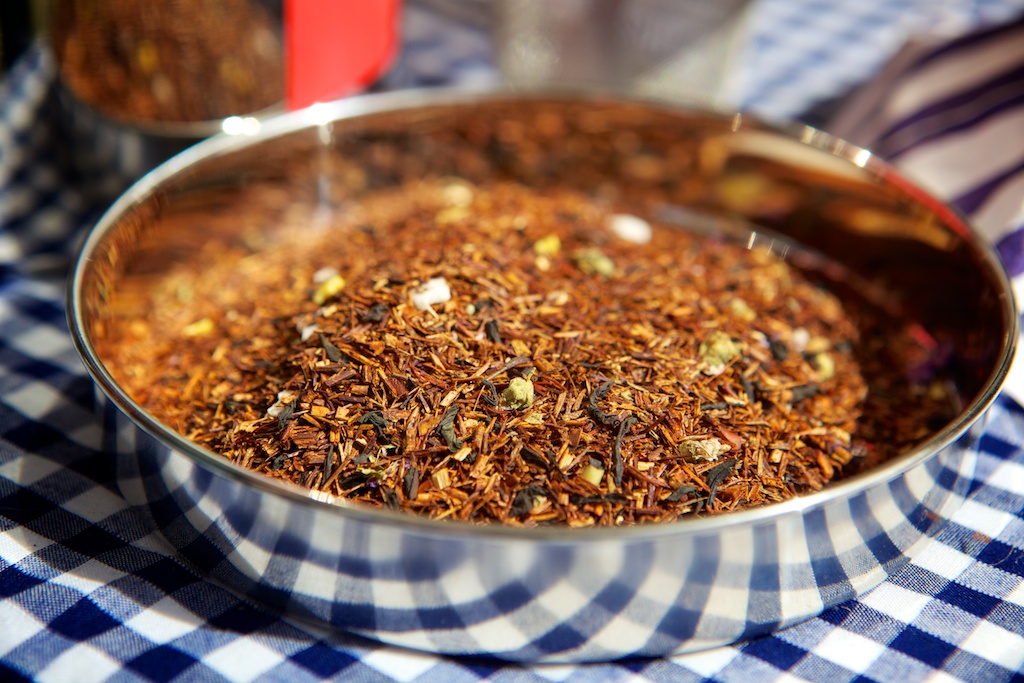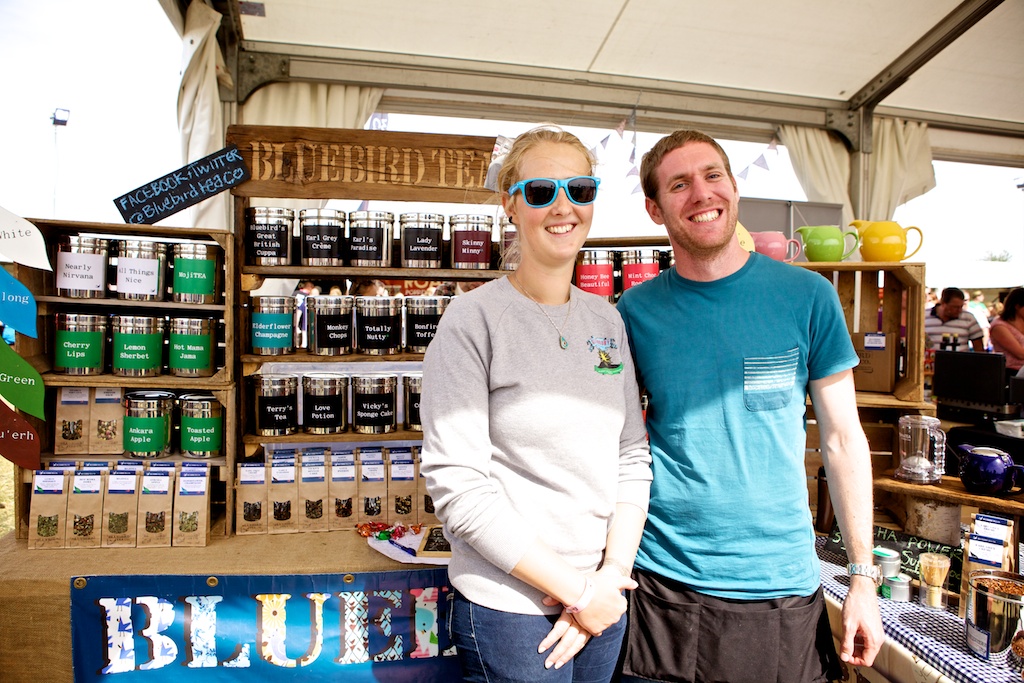 We tried a little bit of everything that was being sold, all of great quality. And couldn't resist buying a really nice Canadian snack we have never tried before. The Nanaimo bar, made by The Maple Food Company. A moreish bar of coconut biscuit, custard cream and premium dark chocolate. Yum!
Before heading to Alex James' cheese hub, we sat down to rest while enjoying an Outback burger with a big smile drawn by a Grand Marnier and ginger ale cocktail. The crowd was dancing and singing along Take That's hit "Shine" with Mark Owen. We were not able to enjoy more music through the day, but we heard that Basement Jaxx and Rizzle Kicks had rocked the place the previous night. And later we found out we missed Alex and Jamie joining The Cuban Brothers on stage.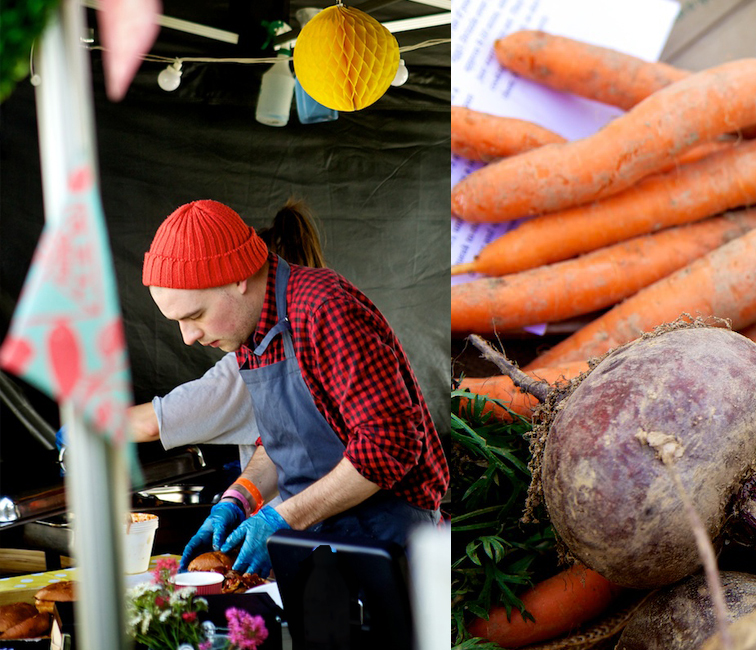 We were lucky enough to squeeze our way into the Cheese Hub for a cheese and beer tasting with Alex James. It included his Little Whallop, a mild goat cheese washed in brandy and wrapped in a vine leaf,  married to a beautiful berry beer. We also had a little taste of his new cheese, Blue Monday, that was officially launched on the first day of the festival.
With the sun shinning, The Big Feastival seemed like the best place to say goodbye to one of the warmest summers this island has had in years.
Are we going to head back to The Cotswolds for next year's edition? You bet.