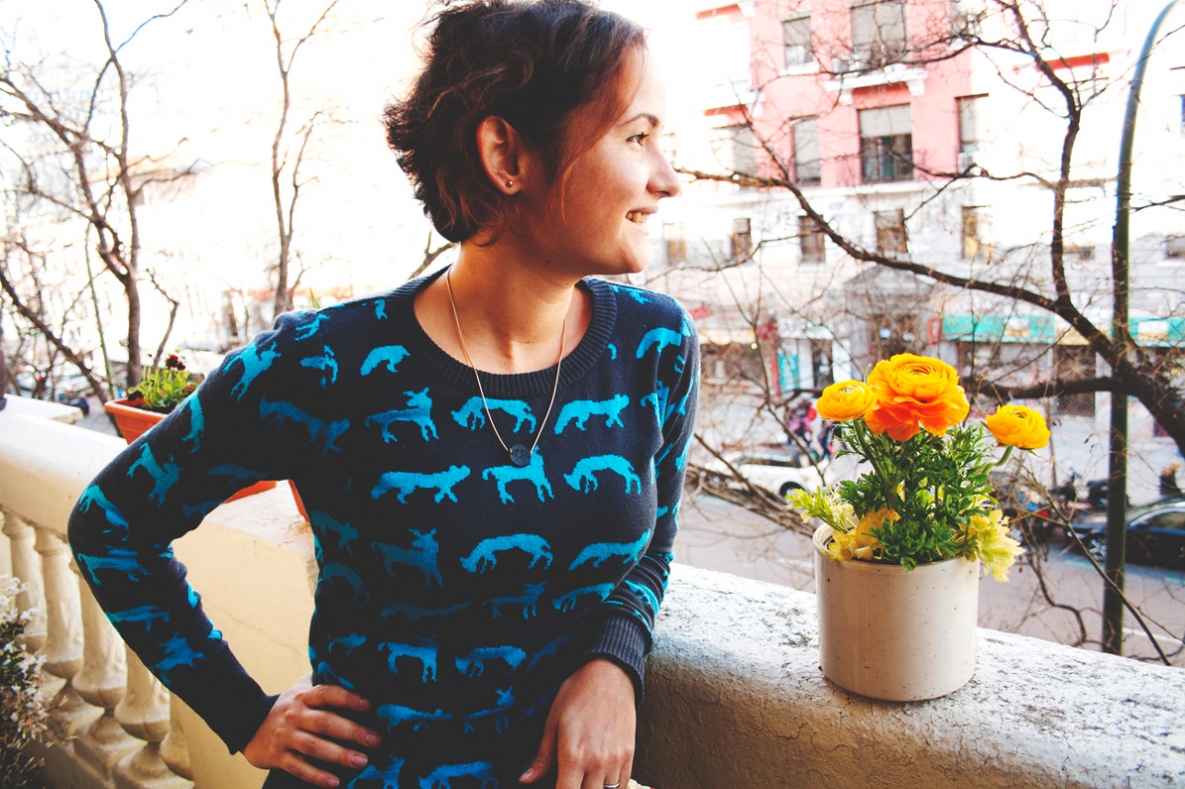 Photography: Mariela Bontempi
Text: Mariela Bontempi
Maria is from Venezuela and arrived to Madrid a few years ago in order to study Textile Design. For her, it was the best way to mix what she loves the most: illustration and graphic design.
Her garden has not stopped growing ever since. Inspired in nature, her organic and colourful illustrations are blooming everywhere.

"Nature is my world, from where I come from. I need it"
She confesses. The Latin American jungle is printed in her work. At her studio, she's surrounded of inspiration; from the botanical pictures to some flower pots in the balcony. "I'm growing tulips", tells enthusiastically.

Why Cayena Blanca? Where does the name come from?
On an excursion with some friends back in Venezuela,
we found a flower that amazed me: the Hibiscus rosa-sinensis, a rose mallow or Cayena blanca in spanish.

I was so in love with that flower that my friend, as a joke started to call me like that.
And your illustration vocation?
"I've always loved drawing, but it wasn't a professional option until my last year at design school, in Venezuela, when my group and I worked on a project where I did several illustrations. The teacher, who was always very hard to please, congratulated me. So I thought, this can't be so bad…" And I came to Madrid to study Textile Design. That was for me a good way to mix design and illustration. It's a wide field, with a lot of possibilities.

How is your relationship with fashion?
I'm not a fashion designer. For that,  you have to be more prepared, know about pattern design, etc. My work is often applied to clothing, but not only. I've made fabrics for furniture, cushions, curtains…I have recently collaborated with a swimsuit designer. It was something that I liked to do. And with another designer, using my illustrations for stamping shawls. And now I'm planning on stamp t-shirts, testing printing qualities for a better product. I'm interested in working with another artists and artisans. A sculpturist and I developed a plates and bowls handmade set, with my flowers print by transference.
A beautiful but  laborious work
Tell us about how you face the tasks, away from computer, at least at the creative phase.
Once in a while I'm asked to design vector illustration but I'm not interested in it. I feel that it would lack of soul. I'm an artisan and appreciate the craftwork very much. I love organic shapes. I don't use any ruler to create. I'd like to be known by the trace of my hand. Even on some geometric designs I've done, they're handmade. In my recent work I've combined painted dry flowers with photographic collage. I like the texture that results. I'm working further on that line. I love orchids. My family has always grown them. Once I've had a white orchid and died. I was so upset! I recycled the petals that fell down to make a new design. I painted them with water colour, thinking in giving them a new life. I like that.
You can do marvelous things recycling. I've found an armchair in the garbage, restored it and upholstered it with some fabric I designed. Now it´s my master piece!
What's your next project?
I'm making cases for mobiles. Also this, I do it myself. I've got a special oven to do the transfer. I like to oversee all the stages of the process. My next project is developing a crockery set with my designs, modern and mixable. And I'm testing some water colour for fabric, but don't know where to apply them yet.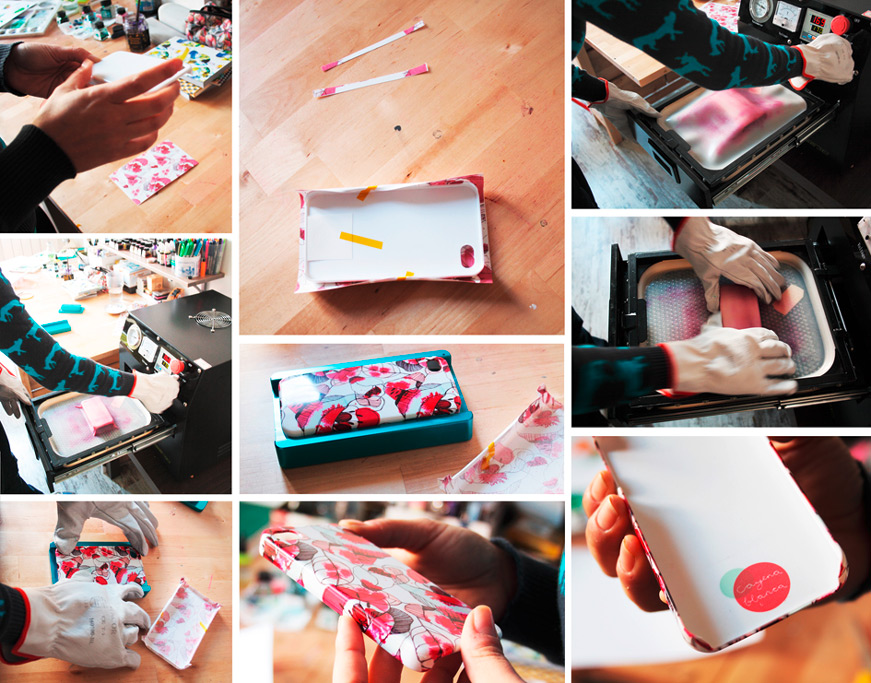 Where can we find your creations?
I've got my online shop in www.cayenablanca.com, where my work is shown. My stationery line (notebooks, calendars, postcards) can be found in Madrid, at Malmo, and soon in Barcelona.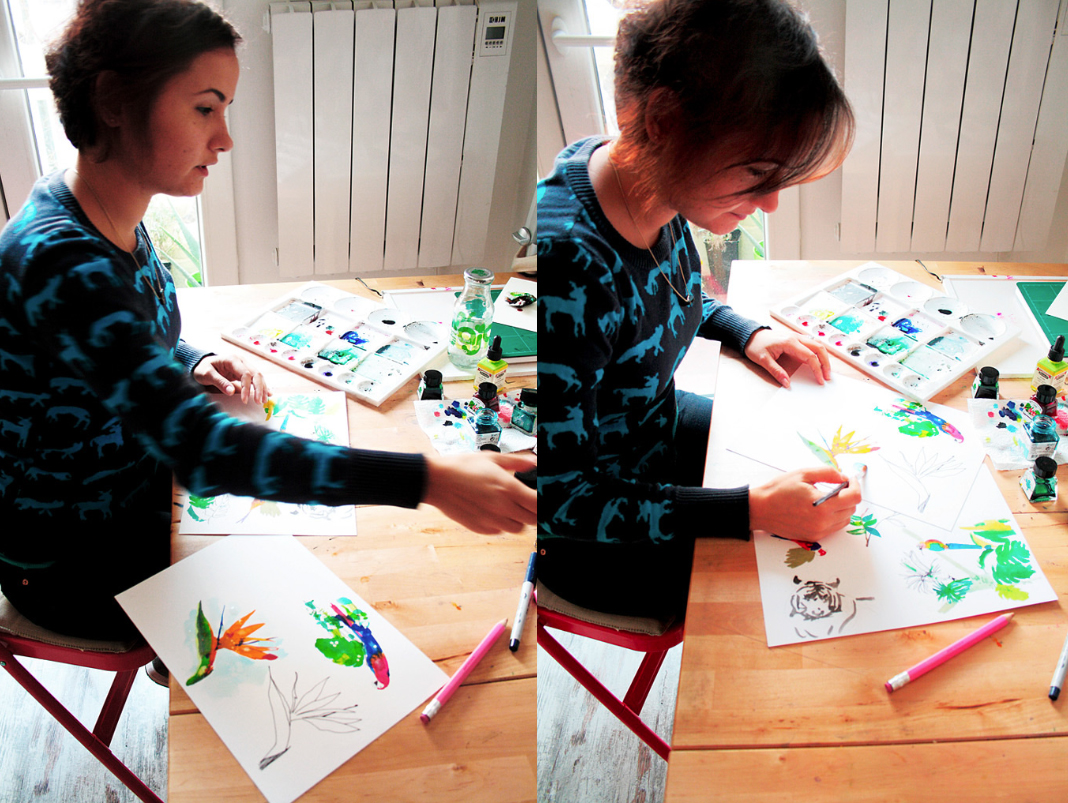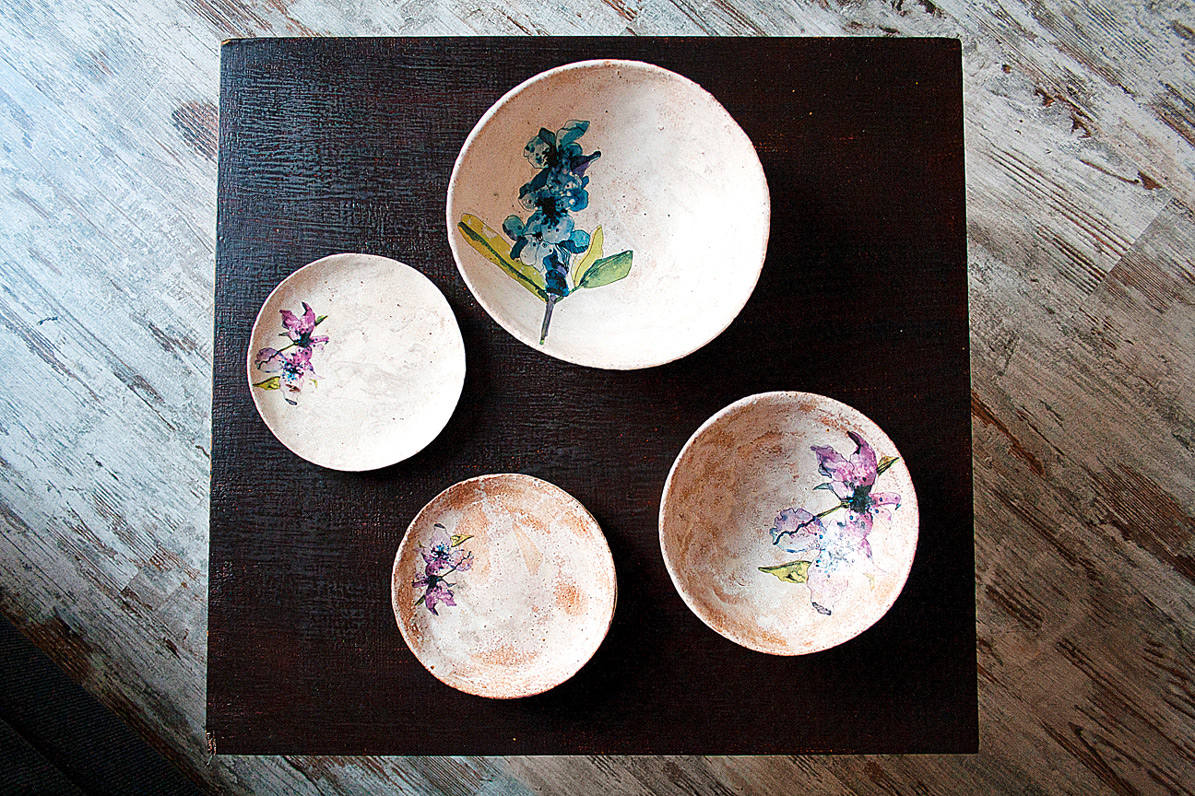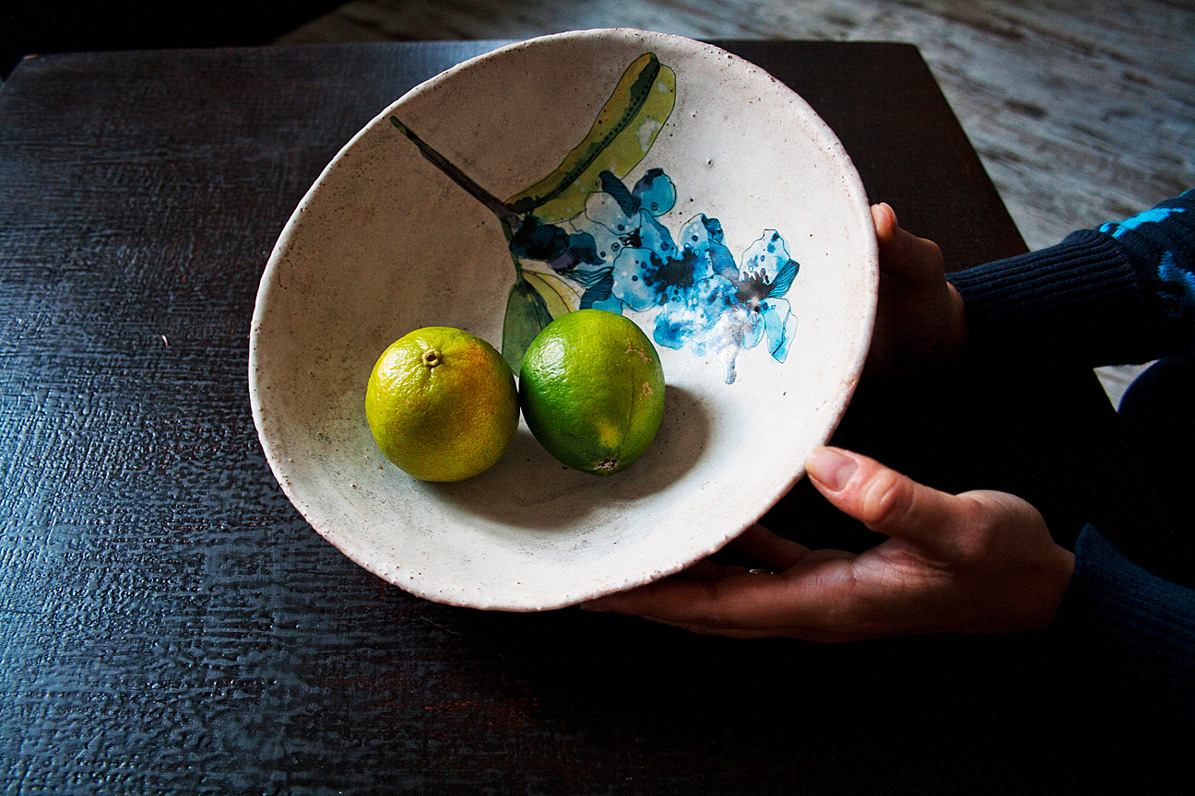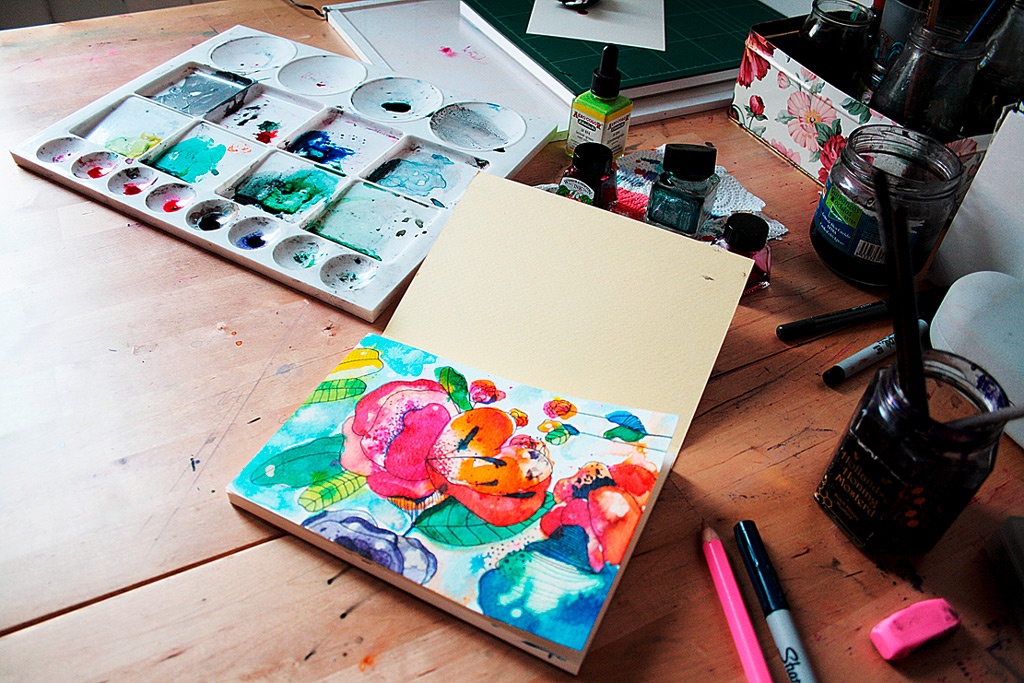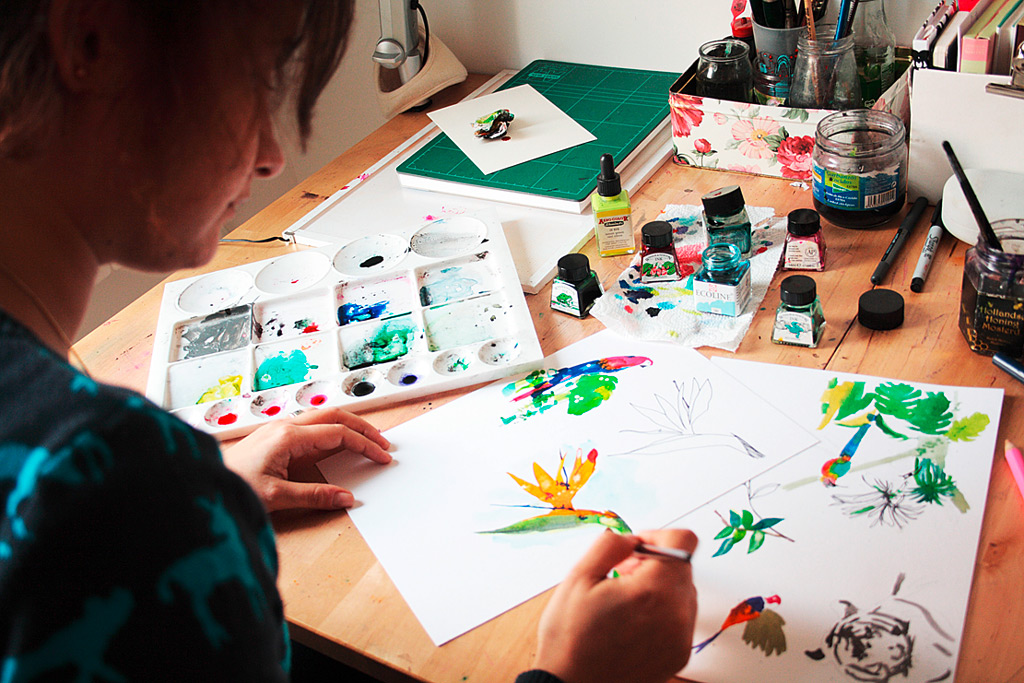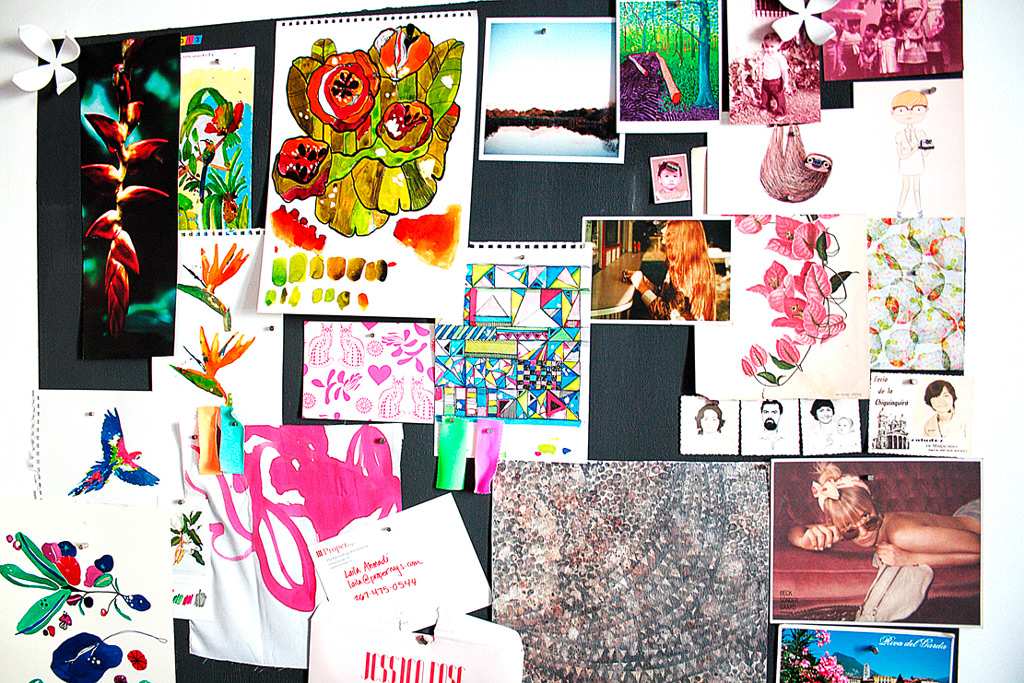 "I'm an artisan and appreciate the craftwork very much. I love organic shapes.

I don't use any ruler to create.

I'd like to be known by the trace of my hand".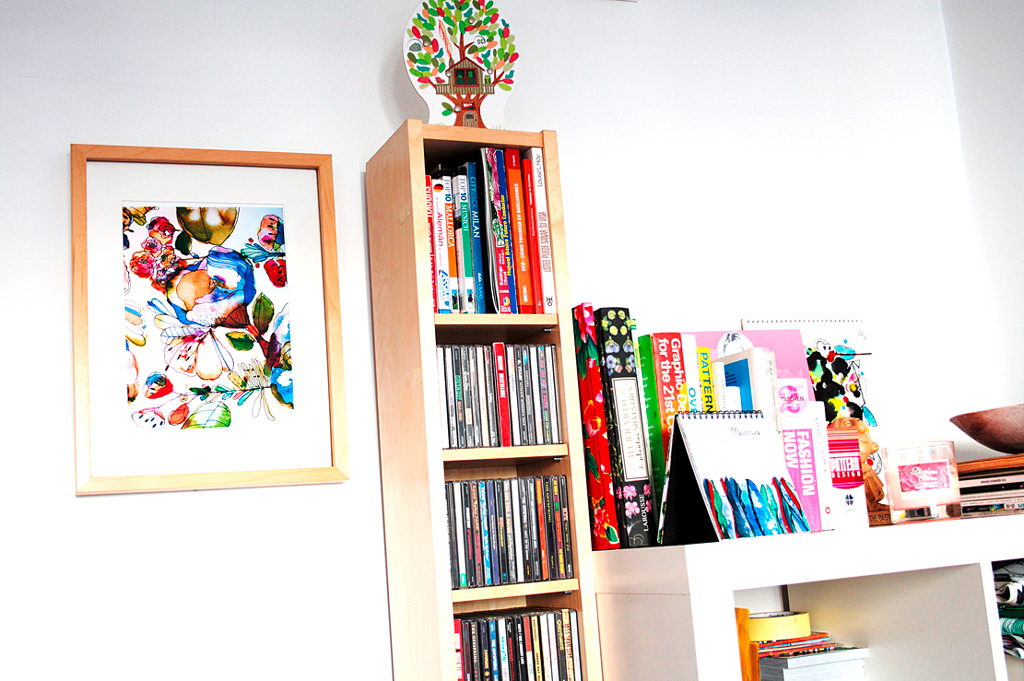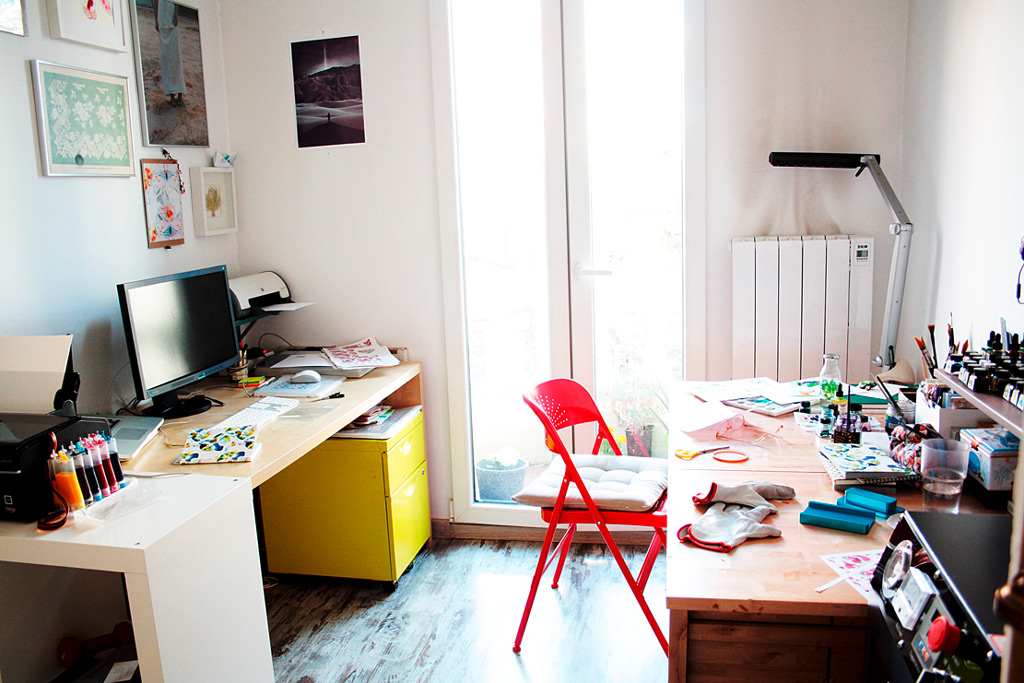 Merken
Merken
Merken