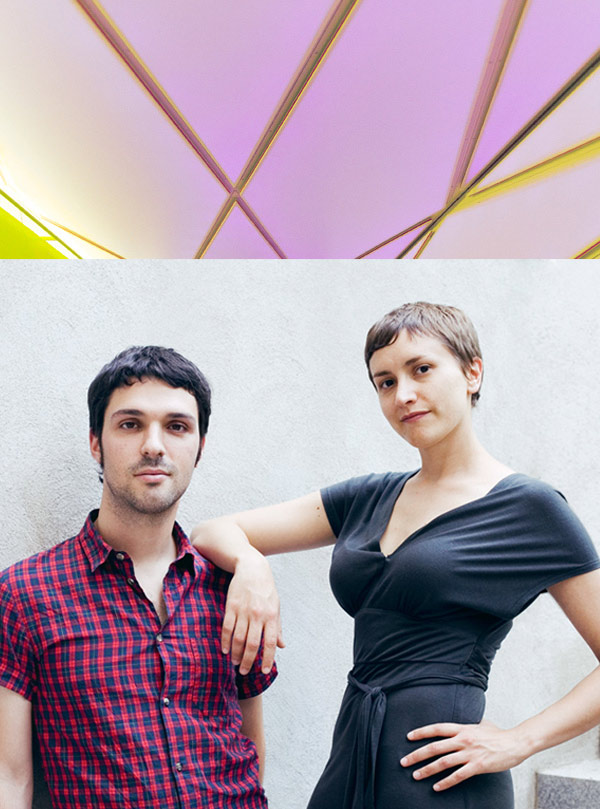 Words: Florencia Serrot Geminelli
Photography: Luis Diaz Diaz
These guys are the best. Not just for the beauty of their buildings, or for their way of giving their structures a vibrant energy through the details. Their talent lies in their use of intelligent solutions, enabling them to combine super cool aesthetics and a sustainable approach to architecture. When we saw their work on the Red Bull Music Academy in Madrid's Matadero, we were quite simply bowled over. And it wasn't just us. Since that project, they haven't stopped receiving awards, including the prestigious AR+D for Emerging Architecture and a special mention from these years Mies Van Der Rohe Award, as emerging architects.


In the flesh Maria Langarita and Victor Navarro are both charming and engaging. Here we present their work through a conversation and some wonderful images (thanks Luis!) by Luis Diaz-Diaz. We've said it before in this intro, but it's worth repeating. Their work isn't just awe inspiring, it's totally sustainable. Langarita & Navarro is a new star in the firmament. What are we talking about? They're a whole constellation! 😉
How did the Red Bull Music Academy (RBMA) Project come about?
RBMA is an annual music event that takes place in a different city each year. For the last 14 years, 60 international participants have been chosen to take part. Producers, dJ's and musicians from all over the world get given the opportunity to experiment and swap their musical knowledge. Due to the earthquake and subsequent disaster at Fukushima, 2011's scheduled RBMA in Tokyo had to find a new home, in less than 5 months. The baton was taken up by Red Bull Spain and Madrid proposed using one of the spaces in the Matadero – an old industrial complex now repurposed as space dedicated to creation – as it's new home. Seeing as we'd already worked in the Matadero, Red Bull chose us to develop the space alongside them.
"Apart from being aware about how to conserve energy in the proposed structures, we also look at how the original architecture supports or uses energy."

 The choice of materials is very important to you. I've heard that you always use the same team on every project.
The materials we use depend on many factors. From the project's concept, to the likelihood of being able to find those materials on time and within budget, to questions of human resources…. And the exact same thing happens to the teams. There's 3 or 4 of us working full time in the studio, and everyone else – engineers, artists, set designers or surveyors – are assembled according to the needs of each project. It goes without saying that the design of this team we also see as an important part of our job.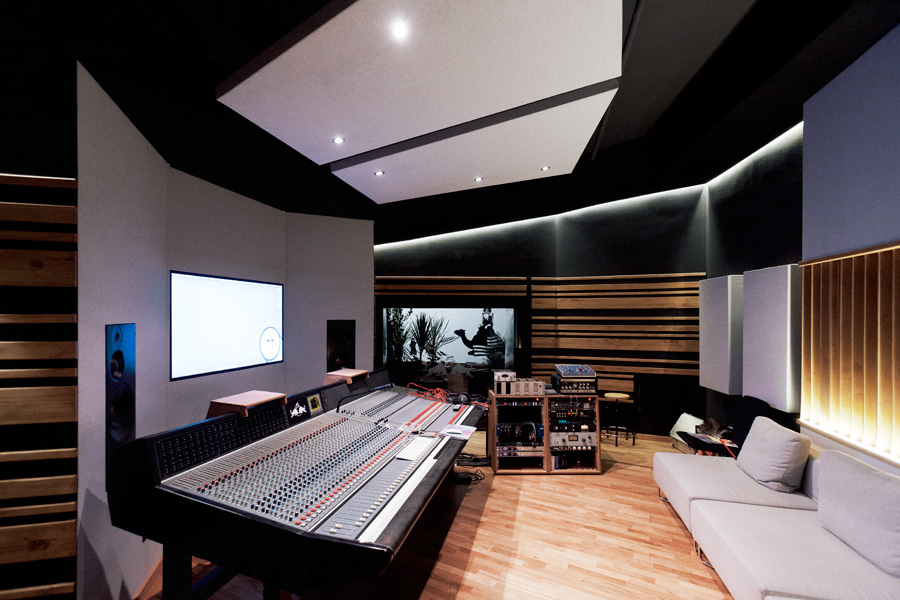 How did the collaboration with Jerónimo Hagerman come about? How did you meet?
We met through Pablo Berástegui, who back then was in charge of the Matadero. We'd actually worked with Jerónimo in the Matadero before RBMA, on the design of the Spice Bank. This was a small intervention on the Matadero's old water tank. It's a concrete structure that dates from the beginning of the 20th Century, and was undergoing structural work in 2011. During the work and because of our experience with the digital façade we made for Medialab Prado, the Matadero asked us to think up a low budget intervention that would go further than just suggest the conservation of the structure.
The reservoir itself is located right by the entrance to the Matadero, on the Plaza de Legazpi, in an apparently unused lot. The idea is that this will be the site of a subterranean transport terminus with the area surrounding the water tower transformed into a plaza. With Jerónimo, we studied the existing vegetation, and we discovered that alongside the native weeds you'd expect were also spices, introduced when the site served as an allotment for the Matadero's workers. We wanted to build this into a feature, in keeping with the time-traveling aspect of the building itself being a protected memory of the past. So we created a kind of Noah's Ark of species of plants in the base of the tower.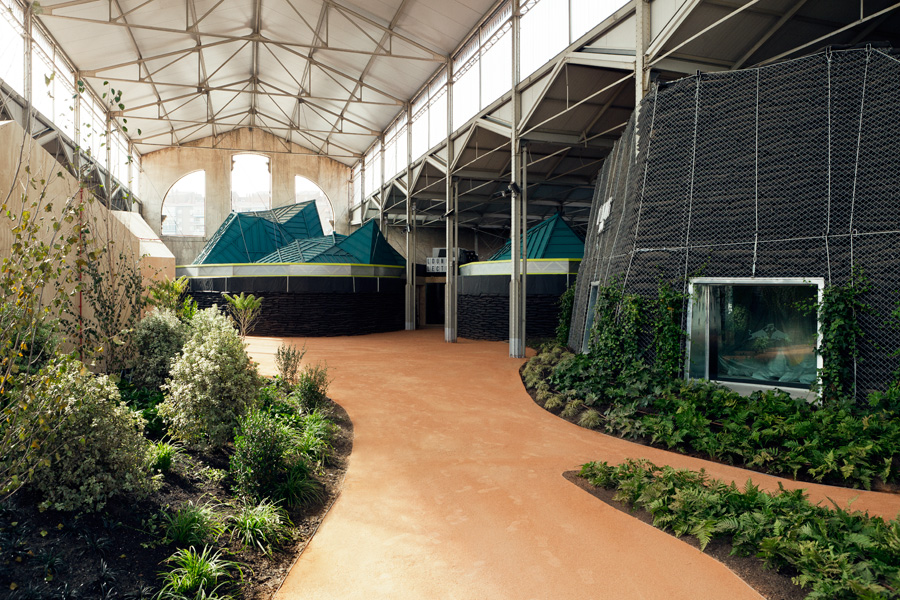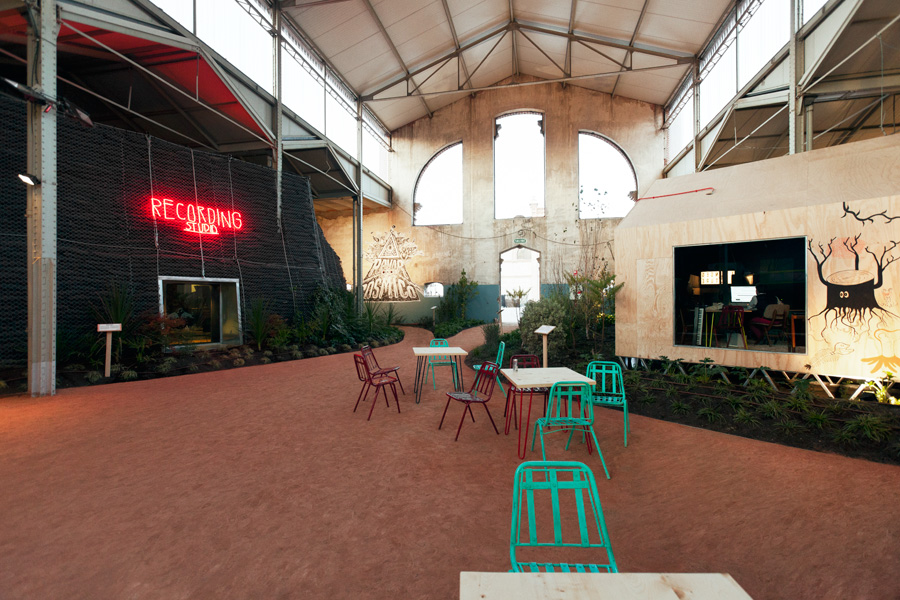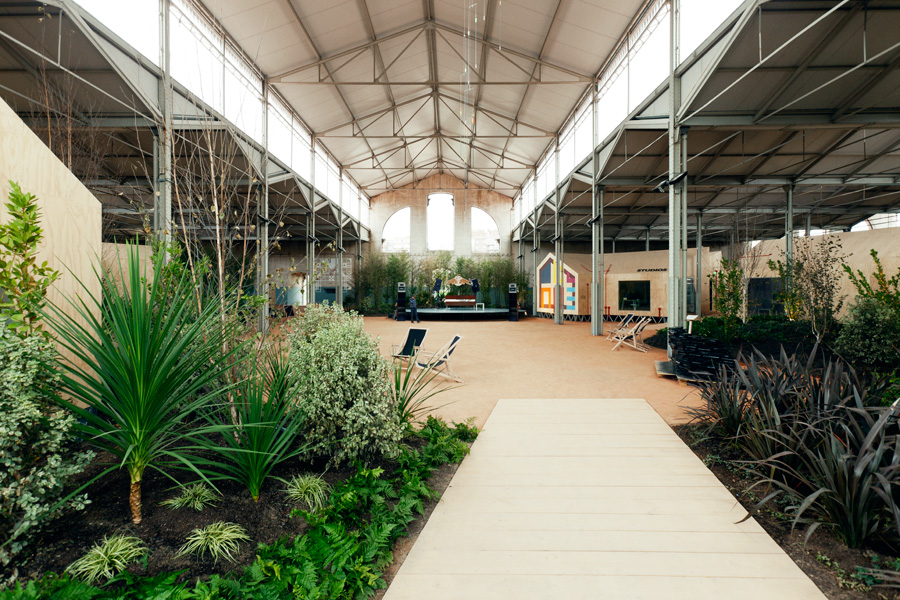 Were you asked by Red Bull or the Matadero to take into consideration long-term costs, or were you given total freedom as to the materials used? The idea of the modules for example is perfect for cutting down on heating or air conditioning costs.
The breaking down of the space into smaller self-contained spaces was there right from the beginning of the project. On the one hand, as you say it cuts down on energy costs, but on the other it also creates natural soundproofing, without having to install expensive and sophisticated panels. Both during the RBMA and in its current incarnation as the Nave de la música, all or none of the modules can be occupied at any given time. You might have someone producing a track on their laptop, next to a band with a live drum kit giving it their all. That's why we developed a heating and insulation system that can be regulated in each module independently.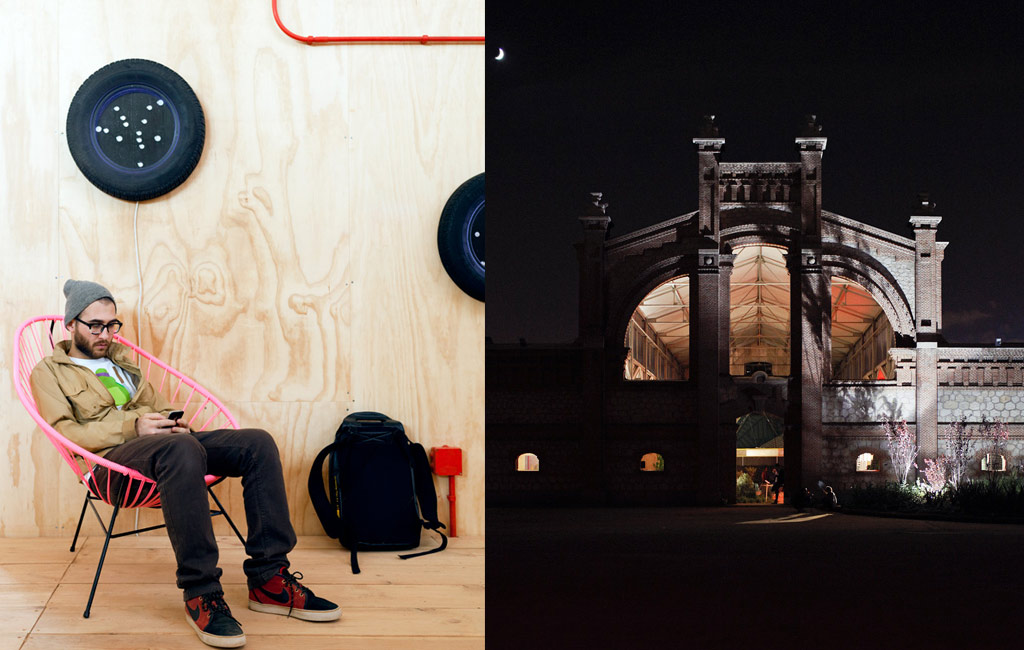 What's your take on 'sustainable architecture'? Are there certain concepts or features that you maintain across all your projects?
Apart from being aware about how to conserve energy in the proposed structures, we also look at how the original architecture supports or uses energy. In other words we look at how they were built and to what end. We refer to this as 'captive energy', and we're meticulous in trying to maintain it. In this way, whatever we add reduces its impact on the global energy balance, by working with the original structure and conserving the captive energy.
Another way of looking at it is that for a structure to last it has to be designed with a certain amount of love and attention. In that way we spend a lot of effort in creating 'lovable architecture'
Is there one architect in particular that you look up to as a mentor?
Not just one but many. We're always trying to learn, whether it be from books, talking to friends, traveling or studying art…but there's no one person we would cite as an influence. When we were really young and started the studio we actually had a slogan – No gurus!
Would you call Madrid a 'smart city'?
There's a large creative class in Madrid. People from all over Spain start their careers here after graduating, even if they don't stay. We would say that yes, it's a city with a very important base of intellectual and creative capital. Over the last few years, the Matadero, Tabacalera, La Casa Encendida, Campo de Cebada, Medialab and many other projects have established themselves as platforms that showcase that contemporary creativity. However, these projects aren't particularly stable, and without funding Madrid's cultural vanguard will return underground. Which, over the years has been its natural habitat.
Madrid needs to be more aware of its unique characteristics: The sun, the gusts of wind at night, the many different demands upon it.
What measures would you propose to avoid this happening?
Invest in what works. Don't try and turn a project into something that it isn't. It's important that public institutions and the city council recognize, understand and maintain the city's social and intellectual capital. The funding bodies need to have a better understanding of what's going on so that this cultural narrative isn't dismantled through clumsy decisions or plain ignorance.
What we really love about your refurbishment projects is the way you bring them up to date. You can see it aesthetically with the adding of fluorescent colours for instance, but are you also concerned with making the buildings 'intelligent', through the adding of automated heating or lighting systems for example?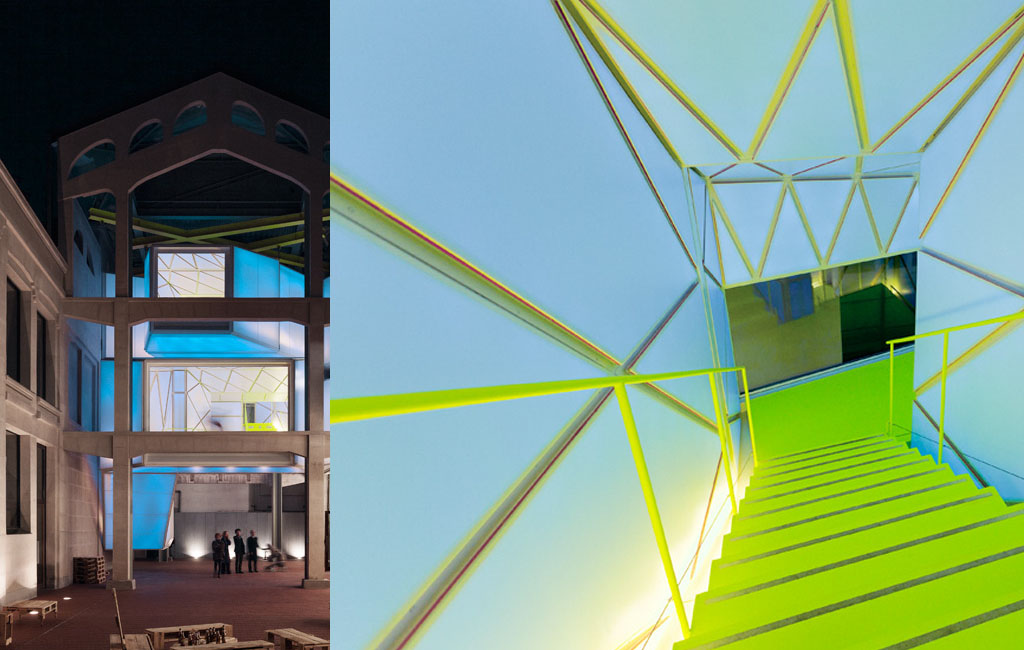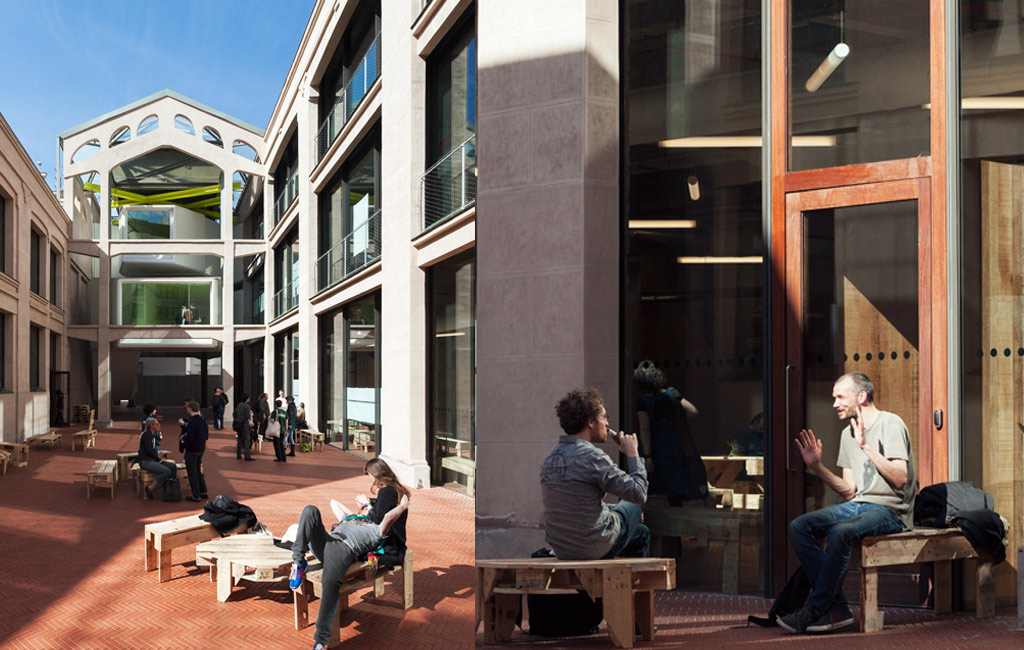 Aside from questions of legal use of the space, what's most interesting for us is that whatever automated features are present are understood and used by the people who will inhabit it. It's a way of adding human intelligence into the equation, as it's important that this is a continual process. To give an example, the space occupied by Medialab, built inside an old Belgian lumber mill, is actually bigger than it needs to be for its proposed use. Which allows people to move around inside it, avoiding the windows in summer, using them as a source of natural heat in winter. The air conditioning and heating ducts are also made out of fabric, which inflates when in use, providing a visual reminder of the energy being consumed. Sometimes we only waste energy because we're not physically aware of its usage.
What building would Langarita & Navarro most like to tackle?
The Spanish coast. We'd like to think and rethink, adapt it, try things out, take them away, and work out a solution for the vast generic city that the Spanish coast has become. It's a topic that comes up a lot when we're on the road (and we're on the road a lot!). It's also a massive project, not just the work of one architect, but to co-ordinate the necessary collective effort.
In all honesty, both the Matadero and Medialab were a bit soulless before your interventions. Are you psychologists as well as architects?
Haha. I think we're more like Luthiers – We intervene in instruments so they sound better, so that music, which is life, can flow through them and they can be used in different ways.
How would you make Madrid into your ideal sustainable city?
Madrid needs to be more aware of its unique characteristics: The sun, the gusts of wind at night, the many different demands upon it. It would be necessary to work both on the physical side of the city, it's infrastructure and gadgets and on the social use of the city and it's spaces. Both things at the same time.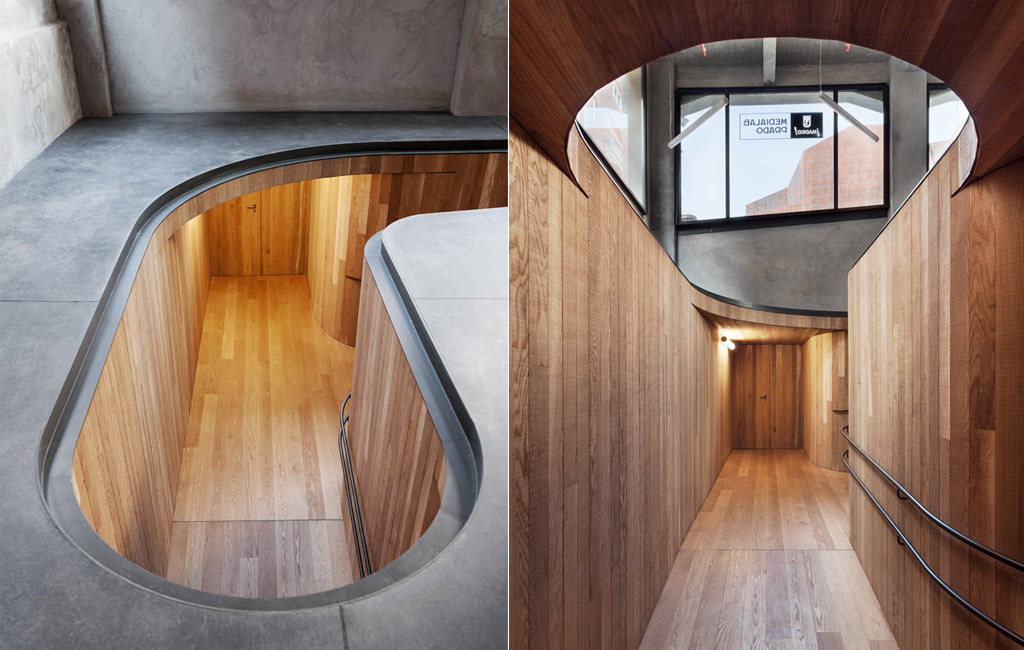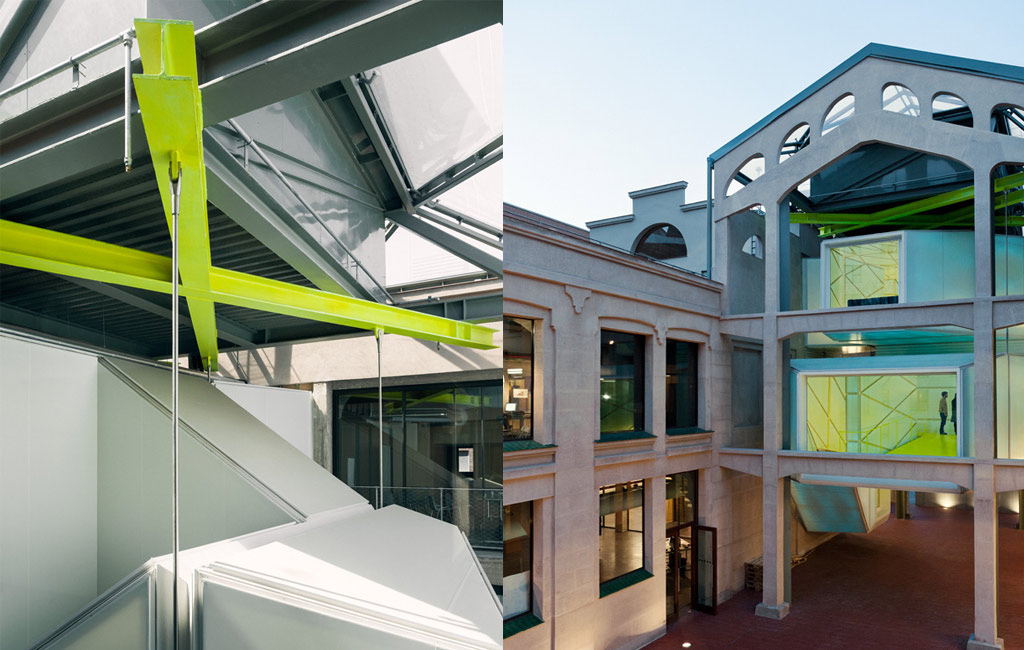 Merken
Merken
Merken